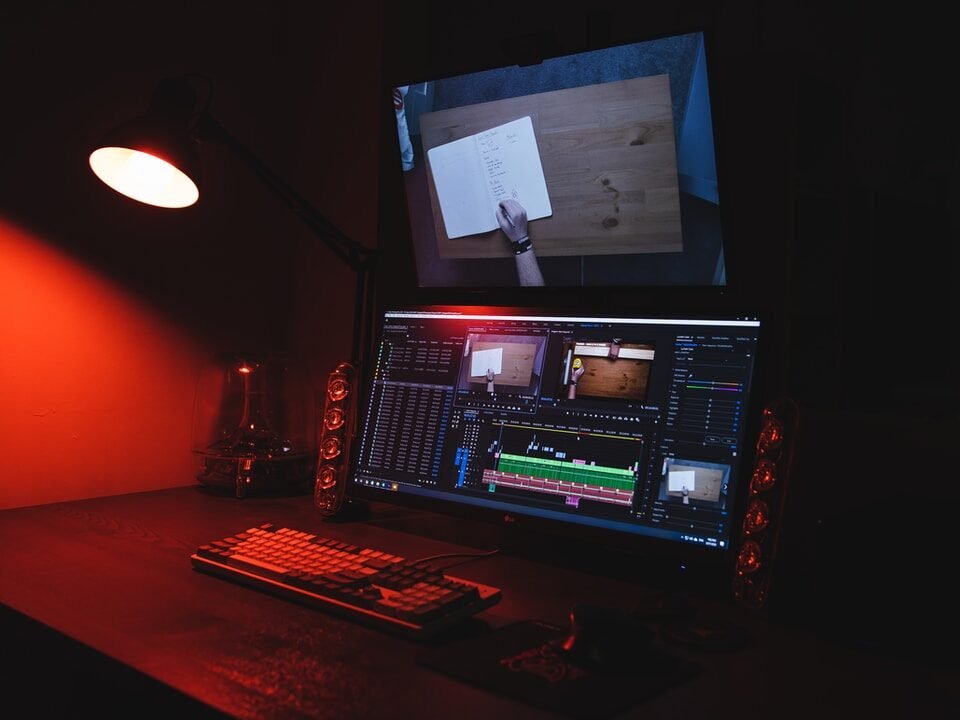 One of the best things about being part of the Adobe family is the enormous community of creators who share resources like Premiere Pro templates. If you aren't yet aware of the magic of templates, then prepare to be amazed. We've put together 23 of the best free templates for Adobe Premiere Pro! You'll find transitions, titles, logo reveal templates, and more on this list.
Those are like cheating, isn't it?
Sure, these can be created from scratch, but why spend the time and effort doing every video edit yourself? You might think using a template is a bit of a cheat, but the fact is, they shorten your editing time, add flair to your work, and bring your video to life. Of course, templates will never take the place of good editing, but they certainly make your life as a video editor easier!
Part 1: 23 Free Premiere Pro Templates
Transitions
1. Ink Transitions
An elegant, eye-catching set of fluid ink transitions, for your inner artist. Just drag and drop to get editing! And, Relax!
2. Flash & Burn Transitions
Best fun, glitchy transitions to add some quirk to your vid. This template will amp up the mood in your next project.
Flash & Burn Transitions Download
3. Strobe Transitions
Good flashy, dynamic effects to add some pro to your next edit. It's easy to get started, so what are you waiting for?
4. Glitch Transitions
You can never have too many glitch transitions. Here are 20 unique glitches to add some spice.
5. Graphic Transitions
Add some color to videos with these unique, simple, and easy-to-use transitions. Everything is editable in seconds flat.
Titles
6. Wedding Titles
Elegant titles for when you're creating a classy title for someone's special day. This template is super simple to use, so you can get started right away. Which is pretty cool!
Download 14 Free Wedding Titles Now
7. Stylish Titles
For these stylish titles, you may need to download the fonts used. Worth it, though -— they're bold, funky, and add some pizzazz to your work.
8. Unfolding Titles
This easily customizable folding titles to play with and 2 different unfold text elements. Available in 4k and full HD versions.
9. Advanced Titles
These titles are more geared towards advertising, and Elements offers a wide variety of advanced titles for you to choose from.
10. Lower Thirds
Lower thirds have never been so easy! Fully customizable, from color to text.
11. Quotes
Perfect for highlighting that bit of text in a cute, casual way. Get these quote designs!
12. Super Simple Titles
Take your edit from amateur to pro with this easy-to-use animated text template. No plugins are required!
Free Super Simple Titles Download
Slideshows & Intros
13. Rhythm Typography Intro
With amazing text animations and dynamic transitions, this is one comprehensive opener.
Download Rhythm Typography Intro Now
14. Inspire Travel Opener
A busy but striking rolling design, perfect for showing off photographs.
Free Inspire Travel Opener Download
15. Modern Corporate
A smart, fully color customizable design that adds a professional touch to your edit. In this template, you'll find lots of text placeholders, for when you need to write a little more.
16. Tech Channel Intro
A stylish tech-themed intro. Because, why not?
17. 2D Shape Intro
A simple but effective background template. But, they are one of the best!
Logo Reveals
18. Free Brush Style Logo
Add some street-style flair to your logo. Many different backgrounds and editable text make this a raw, grungy style reveal.
Free Brush Style Logo Download
19. Gradients Logo
A simple but funky logo reveal. Unfortunately, the color can't be changed, but you can add your own logo and tagline.
20. Free Photo Logo Reveal
A bold, striking, and fast-paced logo reveal. All in full HD resolution.
Free Photo Logo Reveal Download
Edit Templates
21. Fast Action Stomp Opener
A seriously comprehensive opener template. But, they are easy-to-use!
Download Fast Action Stomp Opener Now
Social Media Templates
22. Instagram Stories
Stand out and get ahead of the masses with these stylish effects for your stories.
Free Instagram Stories Download
23. Travel Stories
A youthful, energetic design that will add some shine to your photo or video stories. So, you get compliments from friends
Part 2: How To Use Premiere Pro Templates
If you've never used templates before, here's an overview of how to get started:
Open Adobe Premiere Pro.
Find your downloaded template and double-click it to open.
Locate the Edit folder under your Projects tab.

This is where you can customize your template to your own liking. You will find Shots, Titles, and Logos folders here, all with placeholders for you to edit.

To edit text, open up the Titles folder. Note: The folder might be named something slightly different.
Select and double-click a file to open the Editor, and change it to whatever you would like.

The title names (Title 1, Title 2, etc) correspond to where in the sequence they pop up. Starting from the beginning, you can customize them as they go, and delete ones that you don't need.

To edit the media in the background (pictures or videos), open the Shots folder. Note: The folder might be named something slightly different.

You should have the media you need for your template already saved in a separate folder. Create a new folder on your computer, place all of your media files in it, and drag and drop into your Projects tab under the folders mentioned above.

From here, select the Placeholder you would like to replace with a media file, and drag-and-drop the file you want onto your sequence, either above the placeholder, or completely replacing it.

Resize this if you need to under the Effects Control panel

To see the finished result, you need to get back to the main file. Do this by clicking on the "render" composition on your editing timeline, or clicking on the file under the "Final" folder.
---
There you have it, 23 free and fun Adobe Premiere Pro templates that are guaranteed to bring your video to life. Check out our short step-by-step guide on how to get started using them right away. Get downloading, and let us know what your favorites are in the comments below!